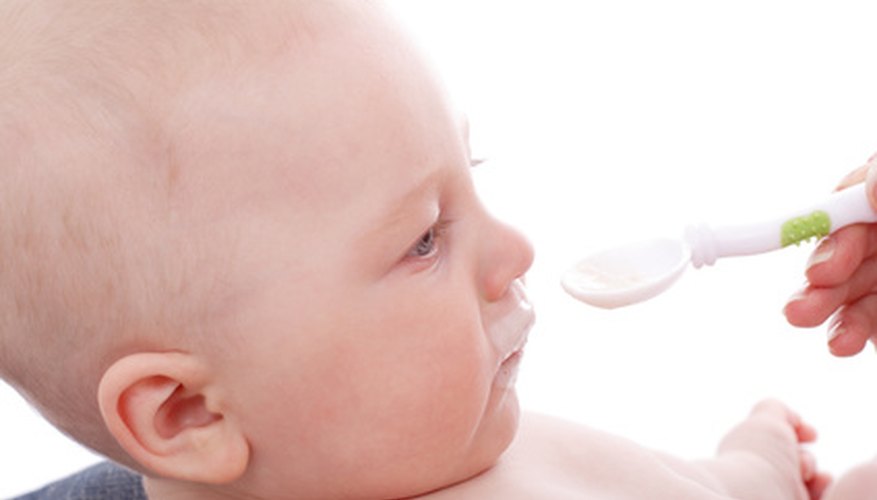 Expand your baby's acquaintance with solid foods.
Baby's first entree into the world of solid food need not be the generic, bland rice cereal, although rice is a good starter food because it is gluten-free and easy to digest. From about ages 4 to 6 months, solid food plays a small add-on role in baby's feeding schedule, but breast milk or formula feedings continue to be the mainstay of nutrition. Work your way from a soupy texture to a lumpy texture as baby becomes more accustomed to eating solids.
Bananas
Bananas may be a good starter food for baby because they resemble breast milk or formula in sweetness and smoothness. Make sure the banana is very ripe and soft, and microwave it for 25 seconds for extra softness. Either mash with a fork or blend and puree. To make a soupier texture, add breast milk or formula. Bananas may aid in digestion by coating the stomach.
Rice Cereal & Formula
Rice cereal is a classic introductory food for baby, and it need not come from a box but can be made at home. Rice cereal very rarely causes an allergy but should not be mixed with any other cereals until you are sure that baby is not allergic to any of them individually. Start with 1/4 tsp. cereal and work up to 1 tbsp., mixed with breast milk or formula. Use organic brown rice if you are making it at home. Make rice powder by grinding 1/4 cup of organic brown rice and add it to 1 cup of boiling water. Simmer for 10 minutes and add breast milk or formula to the desired consistency.
Pear Sauce
Pears are suitable for babies as a first food due to their mild taste and easy digestibility, and they can be used as an alternative to applesauce. Peel and cut pears into chunks and lightly steam them until tender. Blend or mash with a fork, adding cooking liquid or baby cereal to adjust the consistency.
Applesauce
Apples, in the form of applesauce, are a good first food for baby given their low citric acid content, which can cause allergies in some babies. Applesauce is also a good "disguising" agent for any other foods that it might be combined with. Babies under 1 year of age should not be given uncooked apples because they can pose chewing problems and are a choking hazard.
Sweet Potatoes
Babies are partial to sweet potatoes for their taste, texture and color. Nutritionally, they are packed with beta carotene and vitamin B6 for baby's skin, nerves and circulation. Sweet potatoes lend themselves to a variety of cooking methods. Microwaving takes about seven minutes, baking yields a soft sweet potato in a 400-degree Fahrenheit oven in 30 minutes, and mixing steamed chunks of peeled sweet potato with reserved cooking liquid can produce a smooth, thin product when pureed.
Avocados
A nutritional powerhouse that requires no cooking, avocados are well-tolerated by babies and easily digested. Loaded with monounsaturated fats that babies need to grow — and vitamins A, B6, folic acid, niacin and potassium — avocados are nutritionally dense and also high in calories. Simply cut an avocado along the circumference of the seed, twist to loosen the halves and scoop out the meat. No processing is necessary; just feed it directly to the baby or mash and thin it out with breast milk or formula. You can also mix the avocado in with baby cereal.